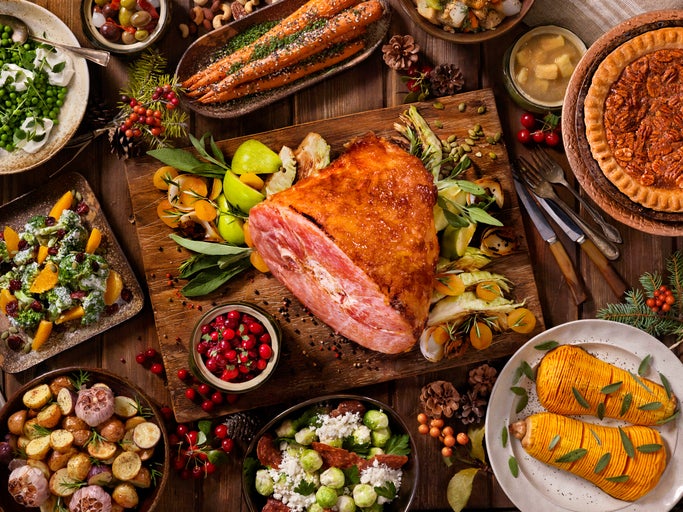 Thanksgiving is quickly approaching! From entertaining to cooking, hosting Thanksgiving in your new home can be stressful. To help relieve some of that stress, we've decided to share a couple of our favorite Thanksgiving Leftover Recipes!
Using turkey, dressing/stuffing and gravy combined with some fresh new ingredients and some crunch, this hash is simply delicious. Served by itself or on top of some Roasted Garlic Buttermilk Smashed Potatoes, or with a fried egg on top; you'll look forward to having this Thanksgiving leftover meal every year!
1 tablespoon unsalted Butter
½ cup Yellow Onion, chopped
2 large Garlic Cloves, minced or pressed through a garlic press
½ cup Red Pepper, finely chopped
3 cups cold cooked Turkey, chopped
1 cup cold Dressing/Stuffing
1 teaspoon Kosher Salt
½ teaspoon Black Pepper, ground
½ cup Sliced Almonds
2/3 cup Gravy or Heavy Whipping Cream
Garnish:
chopped Italian Parsley
Optional:
batch of Roasted Garlic Buttermilk Smashed Potatoes
In a large, heavy skillet (dry) over medium-high heat, place sliced almonds. Stir constantly (to avoid burning) until the almonds begin to turn light golden brown; 2-3 minutes. Remove and set aside.
Melt butter in the same skillet over medium heat. Add onions, garlic, and red pepper to the skillet and sauté, stirring constantly until the onions begin to become translucent.
Add the turkey, dressing, salt, and pepper; stir to mix well. Cook over medium heat, stirring occasionally until heated through; about 5 minutes.
Add the gravy/cream and almonds to the skillet. Cook until the liquid is absorbed, stirring frequently, scraping the bottom of the skillet to incorporate the browned butter into the mixture. Allow mixture to sit a few minutes in between stirring to develop a light golden crust. Hash should still be moist when done; about 5-10 minutes.
Garnish with chopped Italian parsley and serve immediately. If desired serve turkey holiday hash over a heaping serving of Roasted Garlic Buttermilk Smashed Potatoes.
Adapted from Bradley Ogden's 'Breakfast, Lunch & Dinner
Want something a little less traditional? Spice things up a bit with this Turkey-Tortilla soup that everyone will love. This recipe will help you put a new spin on those turkey remnants. Try leftover turkey in soup for a tasty, flavorful change. This Mexican-inspired turkey soup has crunchy tortilla strips, creamy avocado, and fresh cilantro for a zesty day after Thanksgiving dish.
30 Mins
40 Mins
Makes 8 cups
10 (6-inch) fajita-size corn tortillas, cut into 1/2-inch-wide strips
Vegetable cooking spray
1 small onion, chopped
2 garlic cloves, chopped
1 small jalapeño pepper, seeded and minced
1 tablespoon olive oil
1 (32-oz.) container chicken broth
1 (10-oz.) can medium enchilada sauce
2 cups chopped cooked turkey
1 teaspoon ground cumin
Toppings: chopped avocado, shredded sharp Cheddar cheese, chopped fresh cilantro, chopped tomatoes
Step 1
- Preheat oven to 450°. Place half of tortilla strips in a single layer on a baking sheet. Coat strips with cooking spray; bake 10 minutes or until browned and crisp, stirring once.
Step 2
- Sauté onion and next 2 ingredients in hot olive oil in a Dutch oven over medium-high heat 5 to 6 minutes or until browned.
Step 3
- Add chicken broth and remaining unbaked tortilla strips to onion mixture. Cook broth mixture over medium heat 3 to 5 minutes or until tortilla strips soften and broth mixture thickens slightly.
Step 4
- Stir in enchilada sauce and next 2 ingredients, and cook 6 to 8 minutes or until mixture is thoroughly heated. (Do not boil.) Serve with baked tortilla strips and desired toppings.
Happy Thanksgiving!
From our family to yours, we hope you have a memorable Thanksgiving holiday with your loved ones!