Smart Homes
Every home built by Esperanza Homes is pre-wired and set up for smart home technology. This means that our homeowners have the option of making their home high tech and feature enabled while also contributing to enhanced energy savings.  
The Interlogix Ultra Sync smart home app integrates with cameras, windows and door sensors, front door locks, thermostat, and lighting which allows homeowners to monitor and control key components of their homes.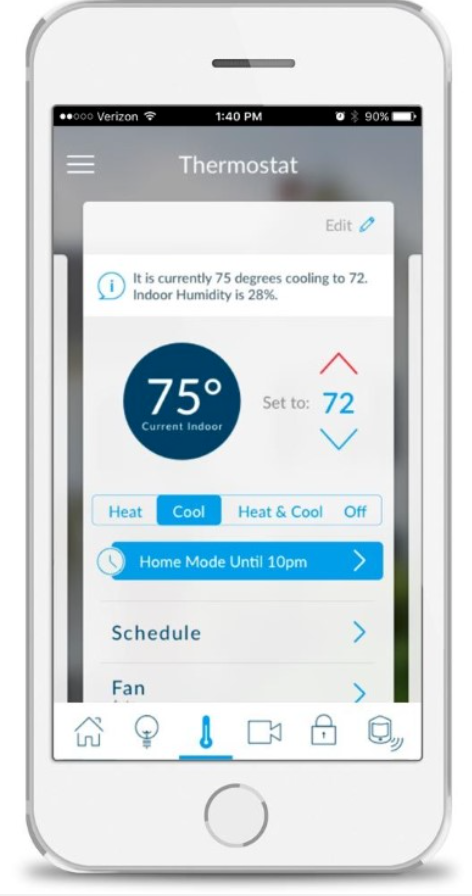 Ultra Sync 
The UltraSync™ SmartHome brings an intelligent, cost effective security option into families' homes and makes it available to them wherever and whenever. UltraSync lets you synchronize various home systems and daily activities so that your home can adapt to your families' schedule and habits.  
With the UltraSync systems and mobile app, you will have the flexibility to adjust your schedule as little or as much as you want , at any place and at any time. Our home owners find this the most helpful when it comes to, controlling lights, front door locks, window and door sensors, and camera access. You can even integrate the Smart Thermostat with the Trane Air Conditioning units every Esperanza Homes comes with.  
Efficiency 
You are able to program the schedule of your lighting, cooling and heating systems which can help save money on energy costs without compromising your comfortability.  
The UltraSync® remote management mobile application extends the programming and interactive capabilities of any system compatible with the UltraSync Series of smart security products by Interlogix. With the UltraSync mobile application, users can remotely arm/disarm the system, view live-streaming surveillance videos and control Z-Wave® devices including lights, locks and thermostats. 
The Interlogix® UltraSync SmartHome system uses pre-set schedules, geo location and remote system management to help users manage energy consumption
Available for iOS® and Android® devices 
Arm and disarm systems compatible with UltraSecure 
Receive alarm reports via text/email 
Manage user accounts 
Control Z-Wave® lights, locks and thermostats 
Watch live streaming video and event-based clips 
Create temporary user codes for contractors or visitors 
Check system event history 
Create and manage scenes 
Digital "Do-Buttons" 
Carrier COR thermostat integration 
Individualized sensor notifications 
About Interlogix 
Interlogix provides leading security and life-safety solutions for both residential and commercial applications covering intrusion, video, transmission and access. Offering some of the most-trusted product names in the industry, and backed by ongoing partner services and support, Interlogix helps customers secure and protect what matters most. Interlogix is a part of UTC Climate, Controls & Security, a unit of United Technologies Corp., a leading provider to the aerospace and building systems industries worldwide. 
TRANE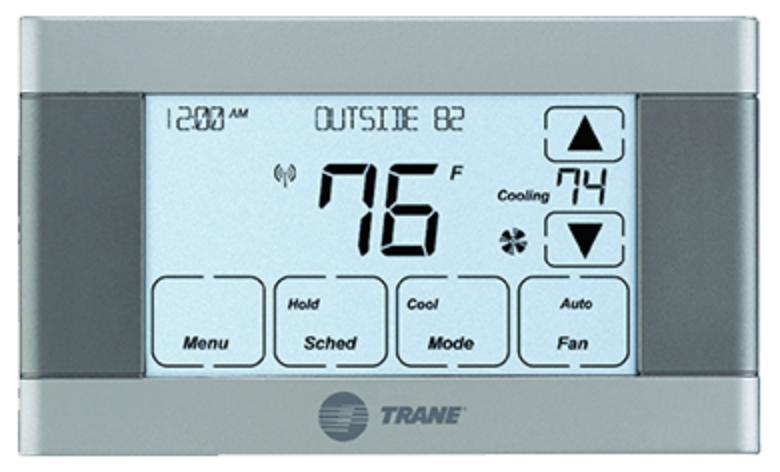 Trane's programmable, touch-screen thermostat and control is what allows you to remotely control the temperature of your home. This allows you to adjust your temperature to your preferences and reduce your amount of energy consumption. 
With upgradable software, humidity sensor, filter service and maintenance reminder alerts, this home automation thermostat and control uses Z-Wave technology that allows you to manage your home comfort from wherever. Nexia™ Home Intelligence Remote Climate Access included* 
The Trane XL624 control is an innovative programmable, touch-screen thermostat control that is compatible with Trane as well as any other brand of standard central heating and air conditioning systems. It is compatible with Nexia™ Home Intelligence and includes Remote Climate Access*. 
XL624 Home Automation Thermostat Control Features: 
4.3-inch black and white LCD touch screen 
Create up to four daily heating and cooling schedules 
Adjust home temperature remotely* 
Adjustable continuous fan control with variable-speed indoor unit 
Screen lock out and guest lock out 
Built-in humidity sensor 
Dehumidification setting 
Receive filter, maintenance and humidifier service reminder alerts via most web-enabled devices* 
One button Energy Savings Mode (ESM) 
Upgradable software 
The specific components of the smart home offerings may vary by division and community. Homeowners will also be able to choose from additional offerings and advanced functions in the design center.